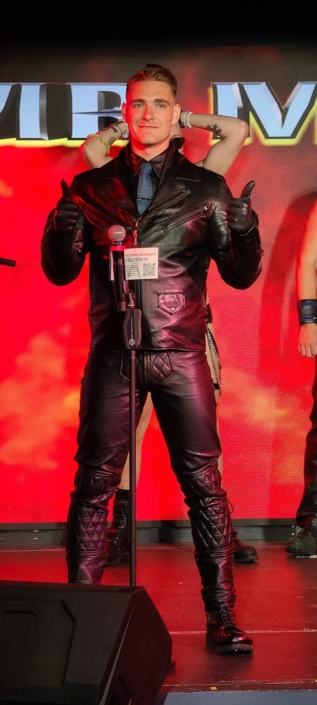 Mates Leather Weekend has come to an end, raising a record $14,800.64 for AIDS Support Group of Cape Cod and welcoming over 650 people to the events.  Special thanks to the extraordinary fund-raising efforts of First Mate Contestant Christopher Puzio who raised $3,622.37, First Mate Contestant and Second Runner-Up Danny Sparkles who raised $3,128.63 and to First Mate 2023 BLUF4414, First Mate Contestant and First Runner-Up Michael Gentilucci and First Mate Contestant MANTHOSE who raised a combined $2,993.27.  Thanks also to RaffleBoy and Mr. SNOWBOUND 2019 Ryan Napravnik and RaffleBoy and Market Master Mark Stickney for their efforts, bringing in $2,176.00 in raffle tickets and BuzzCut Barbers Danny Pantaleo and Billie Jean Beetem for bringing in $445.00
We delivered a box full of coats and clothes, donated at the Leather Market, to Ruthie's Boutique, Provincetown's Thrift Store who donates all profits to local charities.
In addition, a record 33 MLW participants took part in the free health screenings offered at the ASGCC's Drop-In Center during the weekend.  Kudos to these men for taking a proactive approach to their health and the health of their partners.
(photo by Tim White)